CareerCatchers Chronicles:
Quick updates for our donor community
July 2022




Our Newsletters
---
November 2021 Newsletter

I am devastated for all of us, mainly our clients, that an unprecedented number of women have left the workforce. Would you please support us in helping them obtain the resources they need to safely return to jobs with a livable wage and a career path?
Mana McNeill – Executive Director, The CareerCatchers, Inc.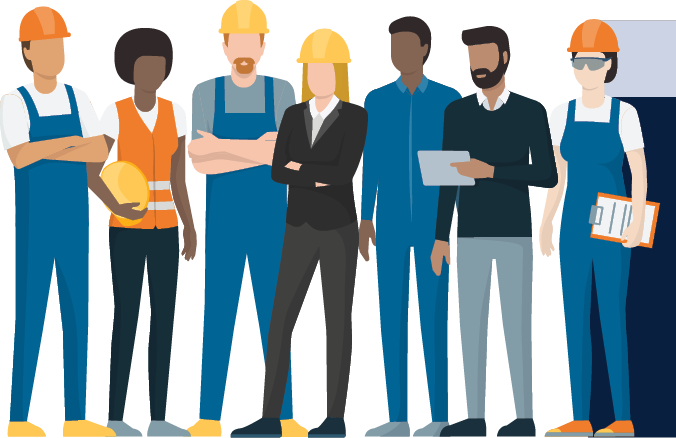 Dear Family and Friends,
What is extraordinary? What is possible? CareerCatchers has helped more than 2,800 people since 2007.
In a job market still defined by the pandemic, CareerCatchers worked with over 600 clients from January to October 2021. Most of our clients— about 80%–are women, and most are the single head of a household. For them, COVID has made a fragile situation even more tenuous. To find employment, our clients not only had to hone workplace skills, but they also had to solve problems of child care, transportation, and often, reliable access to the internet. Their resilience and determination continue to amaze us. But the workplace inequality, as women disproportionately had to leave the workforce, accelerated under COVID and struck our clients. Their problems became our focus. Our initiatives during COVID have nearly doubled the number of clients served.
Adapting to our Clients Needs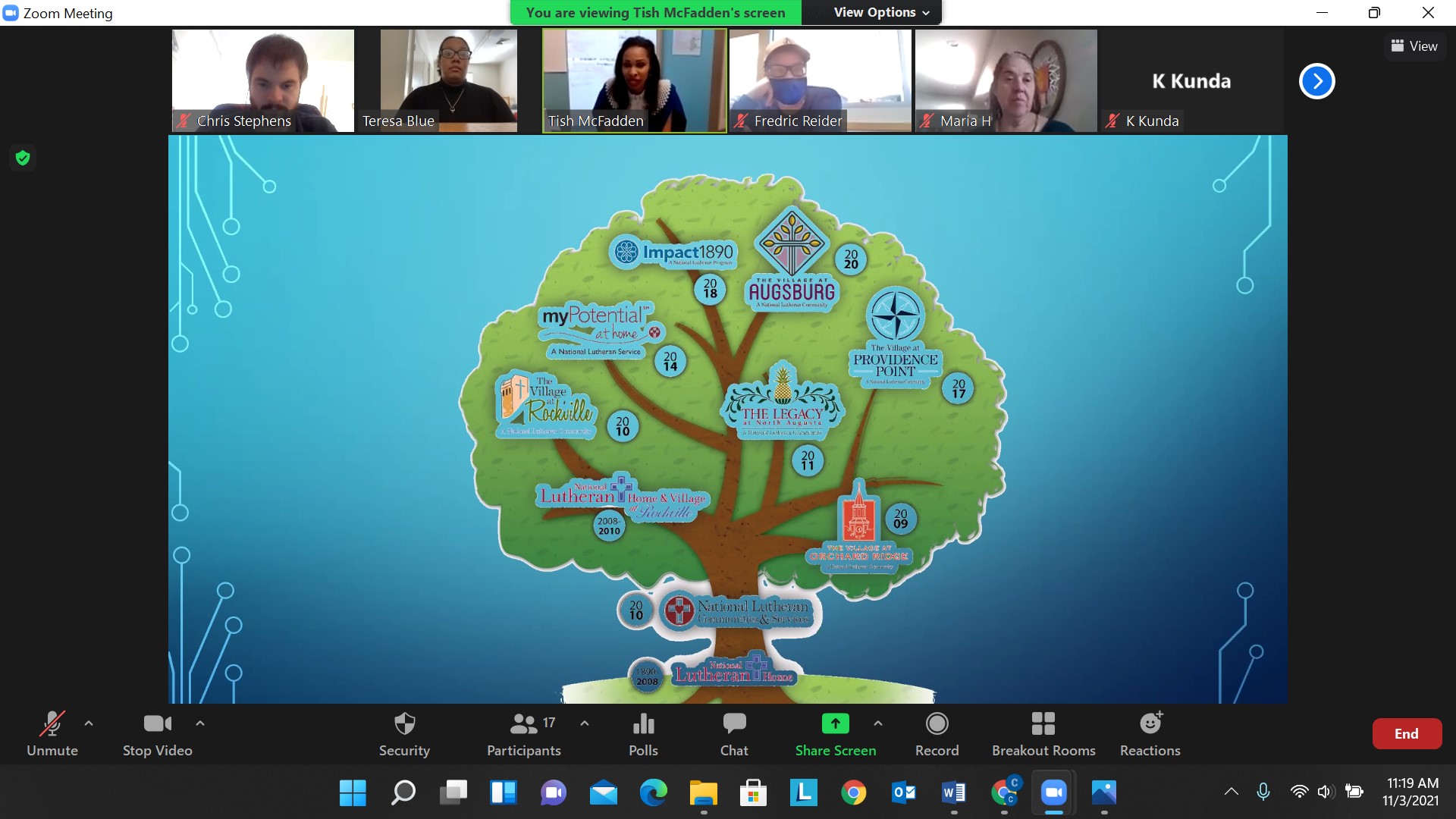 A guest speaker at our weekly Job Club presented job interview techniques to our clients.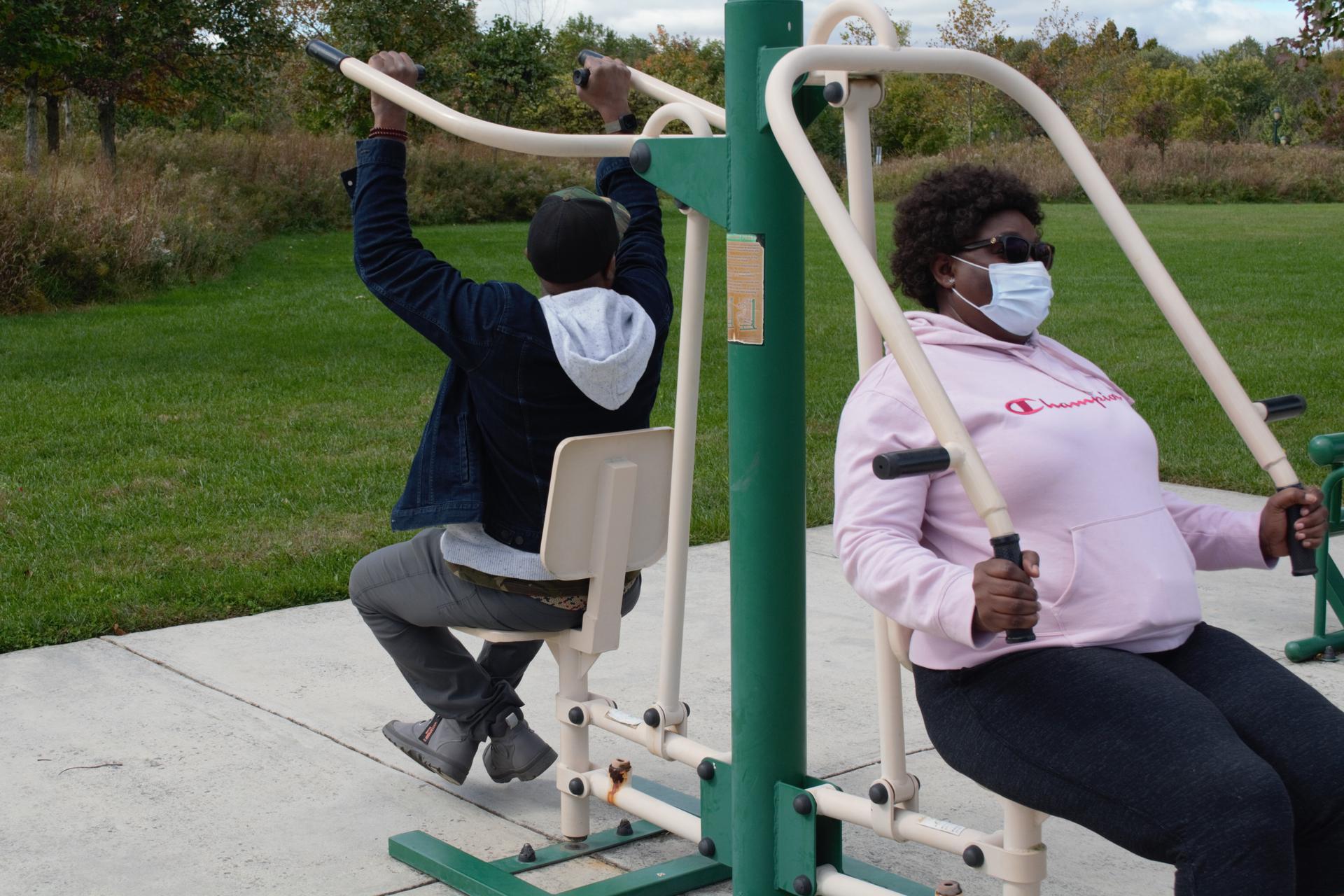 Clients enjoyed a rare in-person, outdoor, Empowerment Workshop!
To reach our clients, we increased our Job Club and Empowerment Workshops, emphasized training and development, and increased our staff to handle the growing demand. We used virtual programs and added new services, including skills classes taught by community volunteers. We match volunteers with clients for support with online courses. So far, in 2021, some 45 volunteers have donated 500 hours. We also developed a weekly email blast. Information ranges from CareerCatchers programs, available jobs, training and scholarship opportunities to community resources.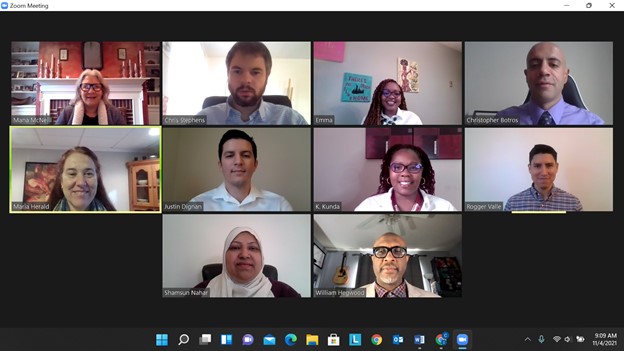 CareerCatchers' growing staff!
Employers Seek out CareerCatchers
In a welcome development, CareerCatchers has been contacted by employers looking to fill jobs and asked to broker opportunities. Giant, CVS, Starbucks, Gregg Homes Services, and Goodwill have all reached out to our office. The Montgomery County government has also requested referrals to fill temporary positions for the past two years. CareerCatchers continues to advocate for clients, helping them navigate a way to find and retain meaningful employment. To ensure success for both employee and employer, CareerCatchers staff identify potential candidates, coach clients for interviews, coordinate interviews with employers, assist with onboarding, and provide intensive support.
Senator Van Hollen Visits CareerCatchers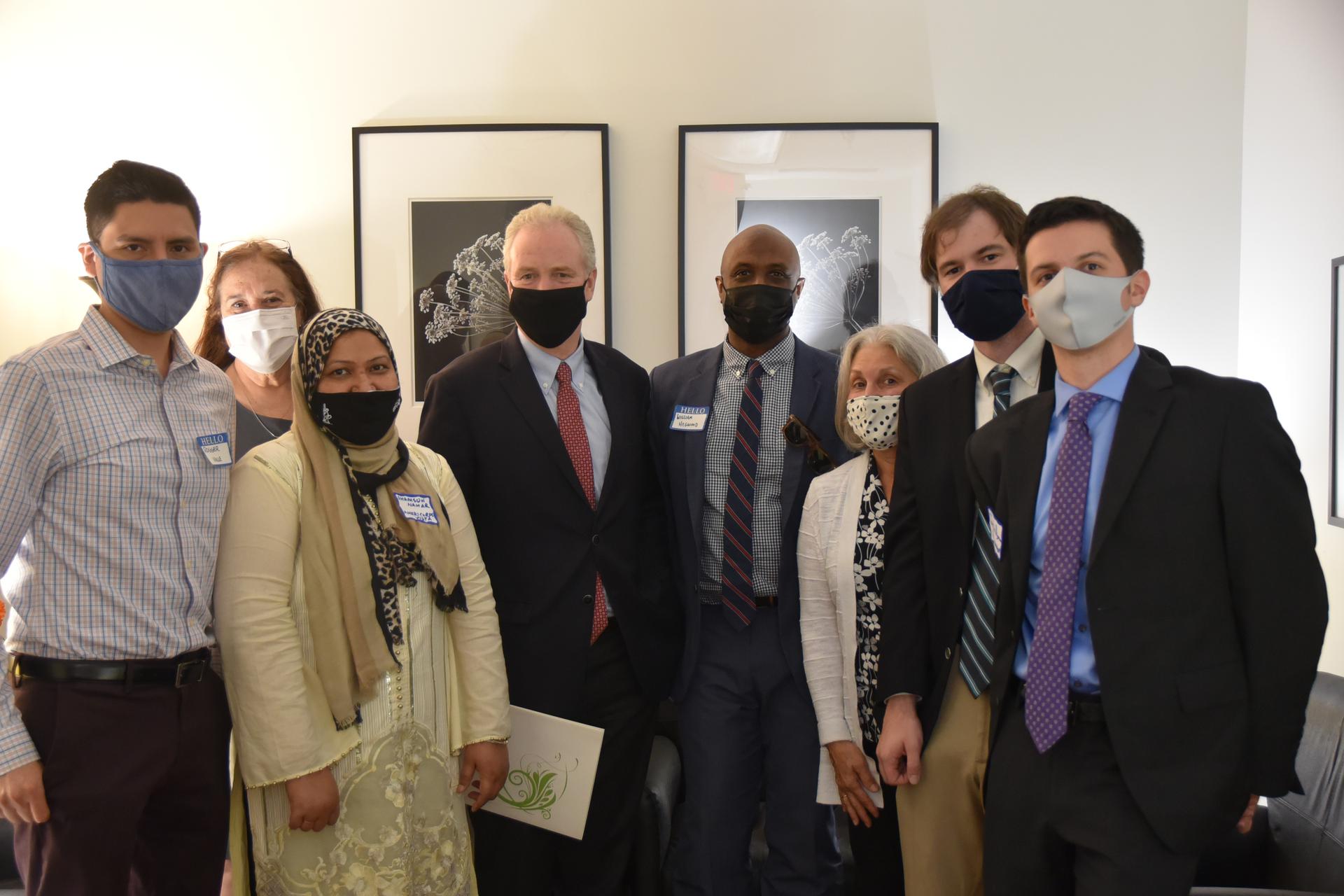 CareerCatchers team with Senator Chris Van Hollen
In August, Senator Chris Van Hollen, a champion of workforce development, visited the Silver Spring office. We discussed how the pandemic has affected our organization and the increased support we provide as a result. The numbers are telling: in 2019, we saw 527 clients, and some 166 started new jobs, while 134 participated in training. In 2020, during the pandemic, we saw 800 clients. Some 106 started new jobs, and those who participated in training increased to 212. The number of clients who find new jobs in 2021 will likely exceed the pre-pandemic numbers of 2019. We were excited and honored by the Senator's visit. We also benefited from his support of the AmeriCorps Vista program, which has boosted our recruitment and staff during this period.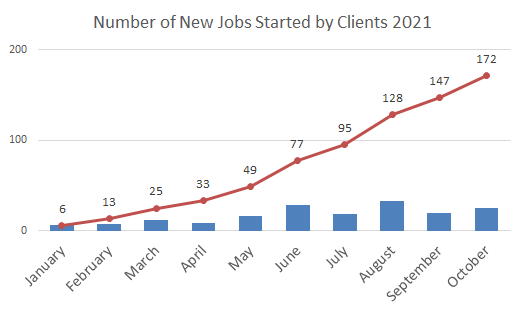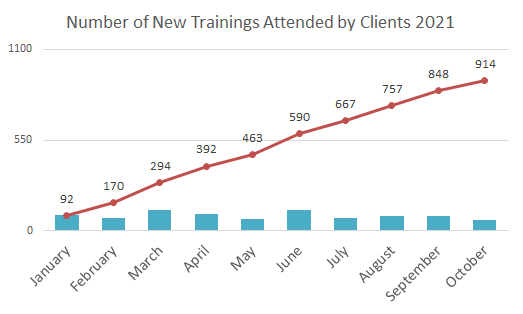 CareerCatchers in the News! Recognition for our efforts
CareerCatchers received one of the nineteen High Impact grants ($50,000) from Montgomery County Economic Development Corporation. This grant is in recognition of "particularly impactful work in economic development, job creation, STEM education, women and minority entrepreneurship, workforce training, and support for underserved communities."
CareerCatchers was selected as part of the WTOP local giving effort, Local Live Initiative, and will be highlighted during the week of November 8-14.
CareerCatchers was selected to be part of the State of Maryland employees Maryland Charity Campaign. Employees may choose charities to benefit from fundraising campaigns.
CareerCatchers was on Montgomery County television (MYMCMEDIA), describing how CareerCatchers adapted and increased services during the pandemic.
CareerCatchers was part of The Nonprofit Show in California. One of the interviewers praised CareerCatchers, saying, "You are doing the work of the angels."
Highlights from our Clients!
One of our clients, in telling her story, explains what is important to her about CareerCatchers: "They always give you hope. My life has changed since working with them." Another noted, "2020 has become the longest year in world history, but CareerCatchers helped make it bearable."
We congratulate SL, who recently earned a meritorious citation from her office. She is now a federal employee, recently remarried, a citizen since 2016, a mother, and a happy, self-sustaining client who recently bought her first house.
Kudos to NB, who came to us in 2014, homeless and previously incarcerated, recently returned to tell us his story. He started his own company, is hiring others and bought his own home. Please click here to watch.
Our clients who started jobs in 2021 contributed $5,200,000 to the local economy.
We continue to be inspired by their stories, talent, and perseverance and now ask your help. Your donation will improve lives in your community in ways that are simple, direct, and effective. We invite you to help us make what seems extraordinary possible.
We also proudly present to you our 2020 annual report
Volunteer Spotlight, Doreen Liberty's Promise Intern
My name is Doreen. In 2021, I joined Liberty's Promise and engaged with their intern program. I have worked with Liberty's promise for 2 years. I am a student at Montgomery Blair High School's class of 2023. Starting in July 2021, I joined CareerCatchers as a social media and fundraising intern. Interning for CareerCatchers was a perfect opportunity for me to learn new skills and to get further knowledge of the workforce.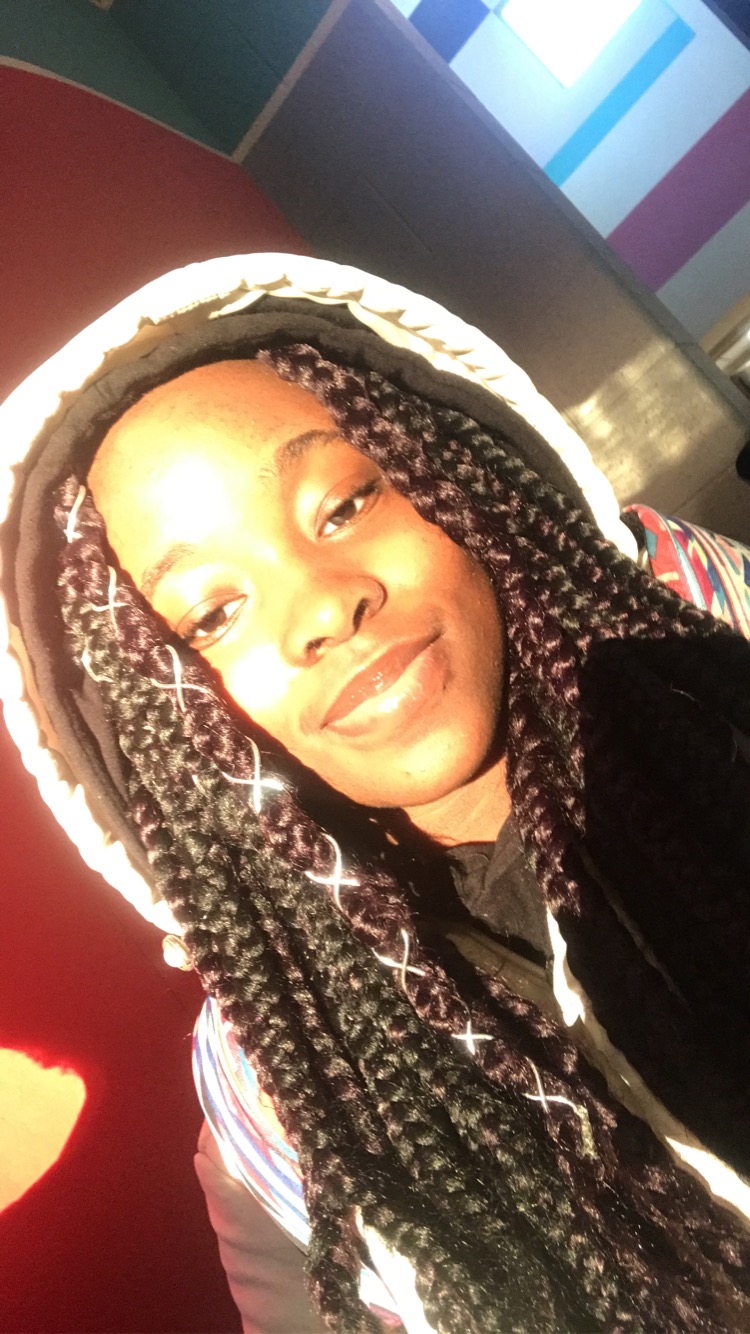 Some of the projects and activities I was involved in include, preparing materials for weekly email blasts; participating in the weekly Empowerment workshops and Job Clubs; working on an executive summary of all grant applications; researching and writing content for social media and storytelling sessions, and participating in planning strategy sessions with the social media team. This experiential learning has proved to be valuable and I will always be grateful for CareerCatchers' generosity of time.
Volunteer Spotlight, Wida – Liberty's Promise Intern
My name is Wida. I joined the Liberty's Promise program at my high school, where I am a Senior. This past summer I was accepted as a Liberty's Promise Data Support Intern with CareerCatchers. Through this internship, I was able to improve my skills and learn new skills at Career Catchers as a data support intern, and hopefully, I'll get to use these skills in the future. Career Catchers is a great organization for people who are unemployed, and we work together to help them improve their skills and find their dream job, and I'm so proud to be part of it.




April 2021 Newsletter

"At times like this it is most evident that growing our capacity is not a luxury, but a necessity. We plan to redouble our efforts in the months ahead."
-Mana McNeill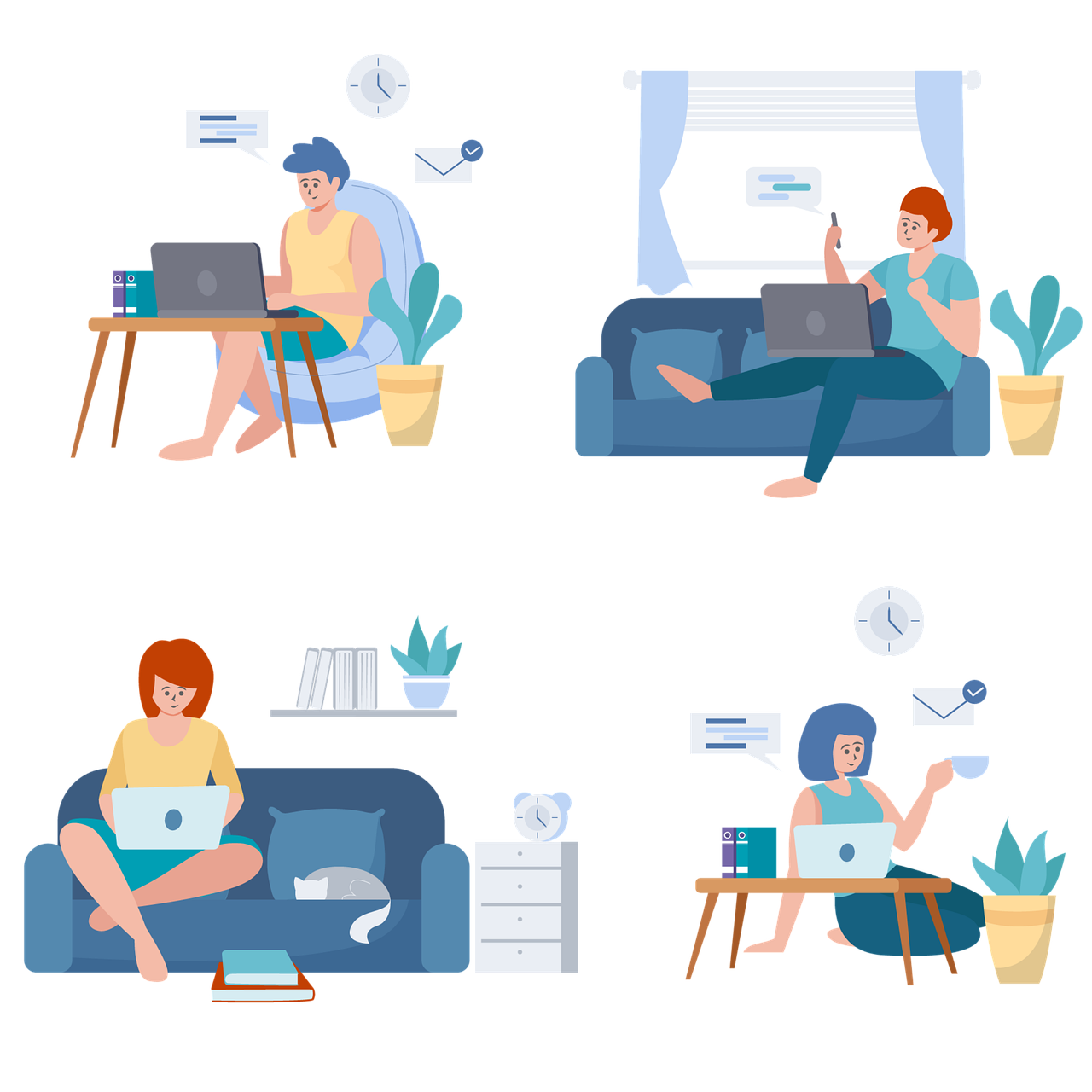 Dear Family and Friends,
CareerCatchers now serves 800 clients with a staff that has grown from 3 to 11, providing services that guide and train, lower barriers, facilitate emergency assistance, and help secure meaningful employment. This past year was unprecedented in the demand for and growth of our services. Here's who we saw and how we reached our clients.
Our program expands
We more than doubled the number of clients we saw last year, adding new clients and new services. Some 53% of clients were new referrals, and 166 of the 800 we helped were referrals from the 3-1-1 hotline seeking Emergency Assistance Relief Payment Assistance (EARP).
In addition to the 166 we helped through the Montgomery County Emergency Relief Services, our clients included new referrals from county partners, attendees of our training programs for Montgomery College students, and current clients.
We saw results
We helped the County distribute nearly $150,000 in EARP cash payments.

112 clients were helped with filing for Unemployment Insurance.

42% of clients seen intensively started a new job.

73% of clients seen intensively participated in training.
Our clients secured jobs valued at approximately $3,700,00 on an annual basis. These jobs included Contact Tracer, Human Services Specialist, Bus Driver-Ride-On, Delivery Driver, Canvass Director in Training, Store Manager, Community Health Worker, Contract Writer, Data Entry Consultant, and Case Manager.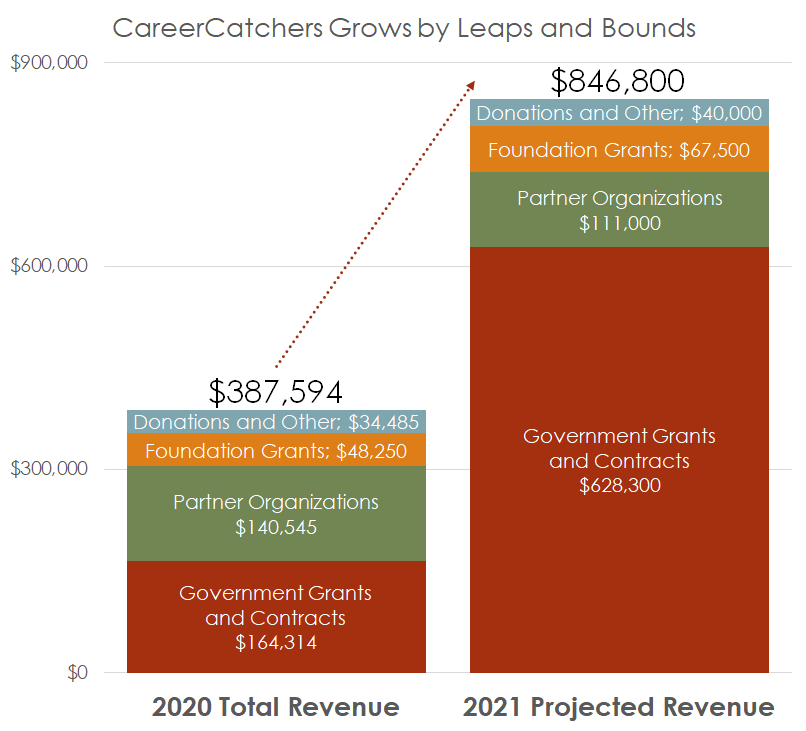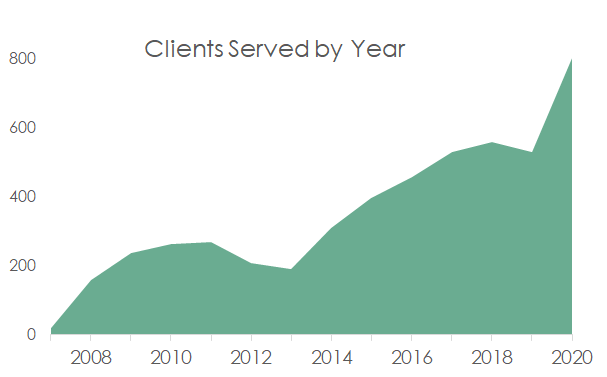 We continue to grow
Two new temporary staff members and two VISTA members in 2020—Emma, Carl, Justin and Chan—joined us to provide EARP and other COVID-related assistance for our clients. We increased outreach to all partners and clients, building client referrals and emphasizing opportunities for virtual workforce training at home. Some 212 clients started at least one workforce development training, and our direct training programs included Job Club, Empowerment Workshops, as well as classes and tutoring offered by volunteers. Since COVID, 26 clients who have attended Job Club have found employment. Our weekly e-blasts to clients provide information about job and training opportunities as well as community resources. Our weekly Virtual Empowerment Workshop Program provides ongoing support where clients can discuss strategies for coping in these stressful times. Domestic Violence victims, in particular, benefit from this workshop to build confidence and self-esteem.
We then started 2021 off with another growth spurt. To meet the increased demand for our services from Montgomery County's Rapid Rehousing Initiative, we added another four staff members in February and March—Rogger, William, Christopher, and Maria. This new team is expected to serve an additional 300 new clients in 2021.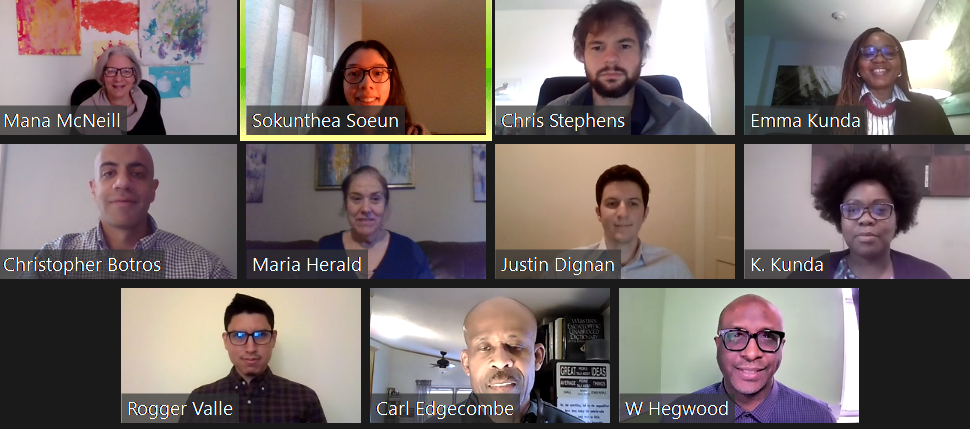 The more the merrier! Our expanded staff is happy to provide more services.

At Job Club, clients learn how to elevate their social networks. Join us for a different job-related topics every week.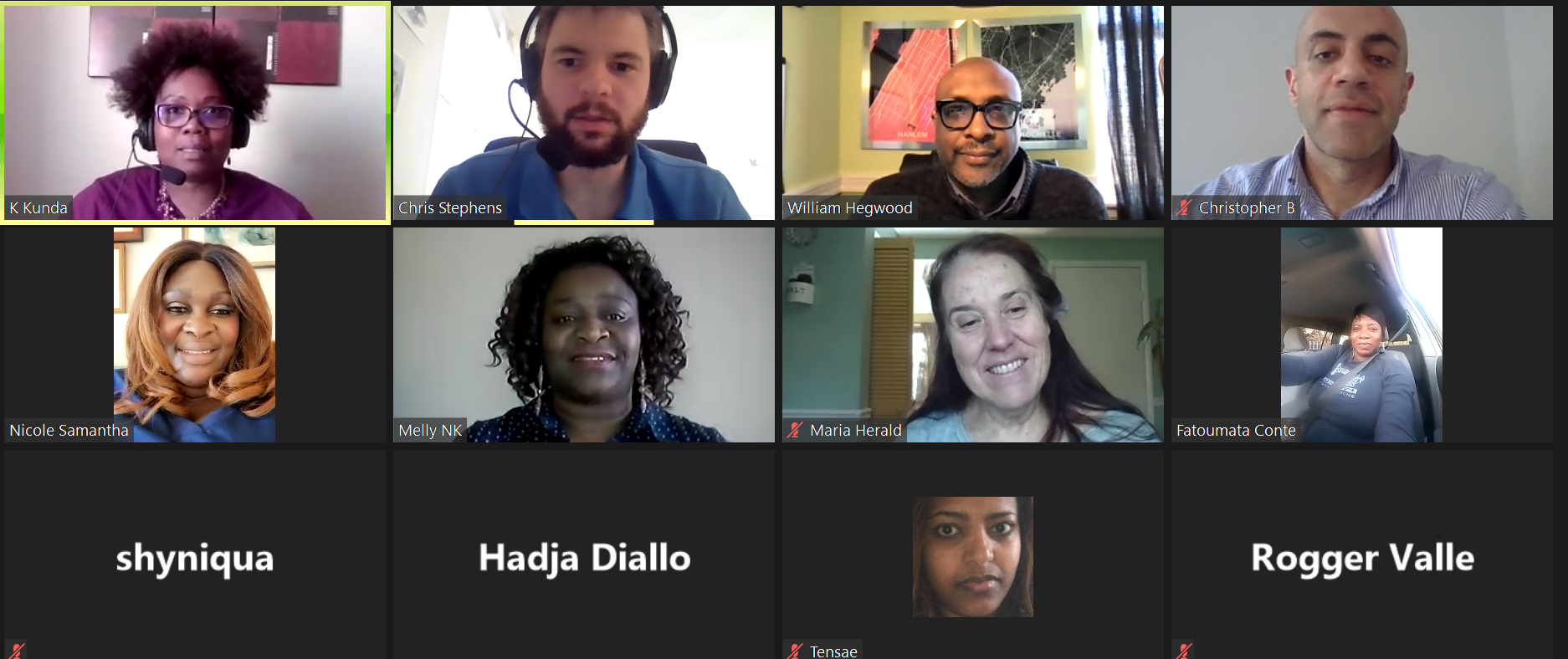 We all need to be empowered. Our clients love attending our Empowerment Workshops.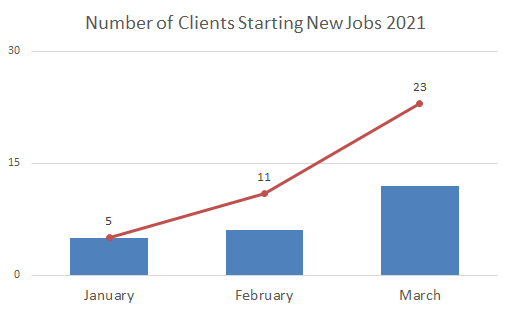 We continue to see results
The trend of clients starting new jobs and completing workforce development training continues on an upward trajectory in 2021.The first three months of this year showed great gains for our clients. 22 clients began new jobs valued at over $800,000 annually. Some of the interesting jobs we helped clients find are Montgomery Public School Classroom Monitor, Accounting Executive, Compliance Assistant, Project Manager Assistant, Financial Consultant, and Fingerprint Operator.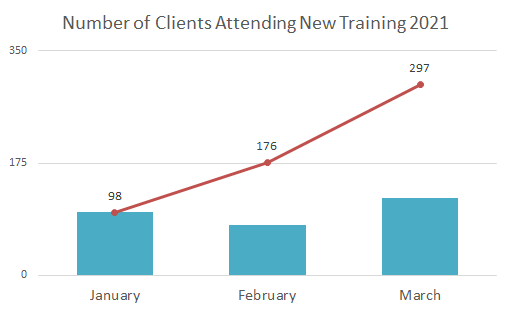 The help of our donors and partners has made it possible to reach more clients, expand our services, hire more staff, and offer both practical assistance and personal support. In a year where virtual is personal and need surges past capacity, we thank you for your generosity and humanity. We continue to depend on both.
Volunteer Spotlight
Kristen Conte started volunteering with CareerCatchers in 2017. Because she benefitted from good mentors in her career in Organizational Finance, she knew the importance of a good teacher and a good listener. Kristen started working right after high school and didn't decide to go to college until her late 20's. Since she was also working, it took 12 years to finish her Bachelor of Science program.
Kristen likes financial forecasting and interpreting financial information. She likes the precision required in finance and accounting, and has built financial models to help businesses make sound decisions about starting a new product line, hiring staff, or opening a new location. She also wanted to be a teacher, and in elementary school, dreamed of that opportunity. At CareerCatchers, she can combine both her financial expertise and teaching. She teaches Bookkeeping, QuickBooks, Microsoft Word, and Excel.
Clients in Bookkeeping and QuickBooks ask questions from both a business and technical perspective. One client had a consulting firm and wanted to learn how to transition her finances from paper to a software program. Another client owned a market and wanted to save time and money by recording all transactions in QuickBooks. During the course, Kristen describes how businesses bring money in and spend it, discussing how budgets are developed and monitored.
In the Word and Excel classes, Kristen explains problems that can arise when formatting changes are made, or when information is added to or removed from a Word document or Excel spreadsheet. She admires clients taking control of their situation and actively signing up for online training classes. Her hard working students are equally admiring.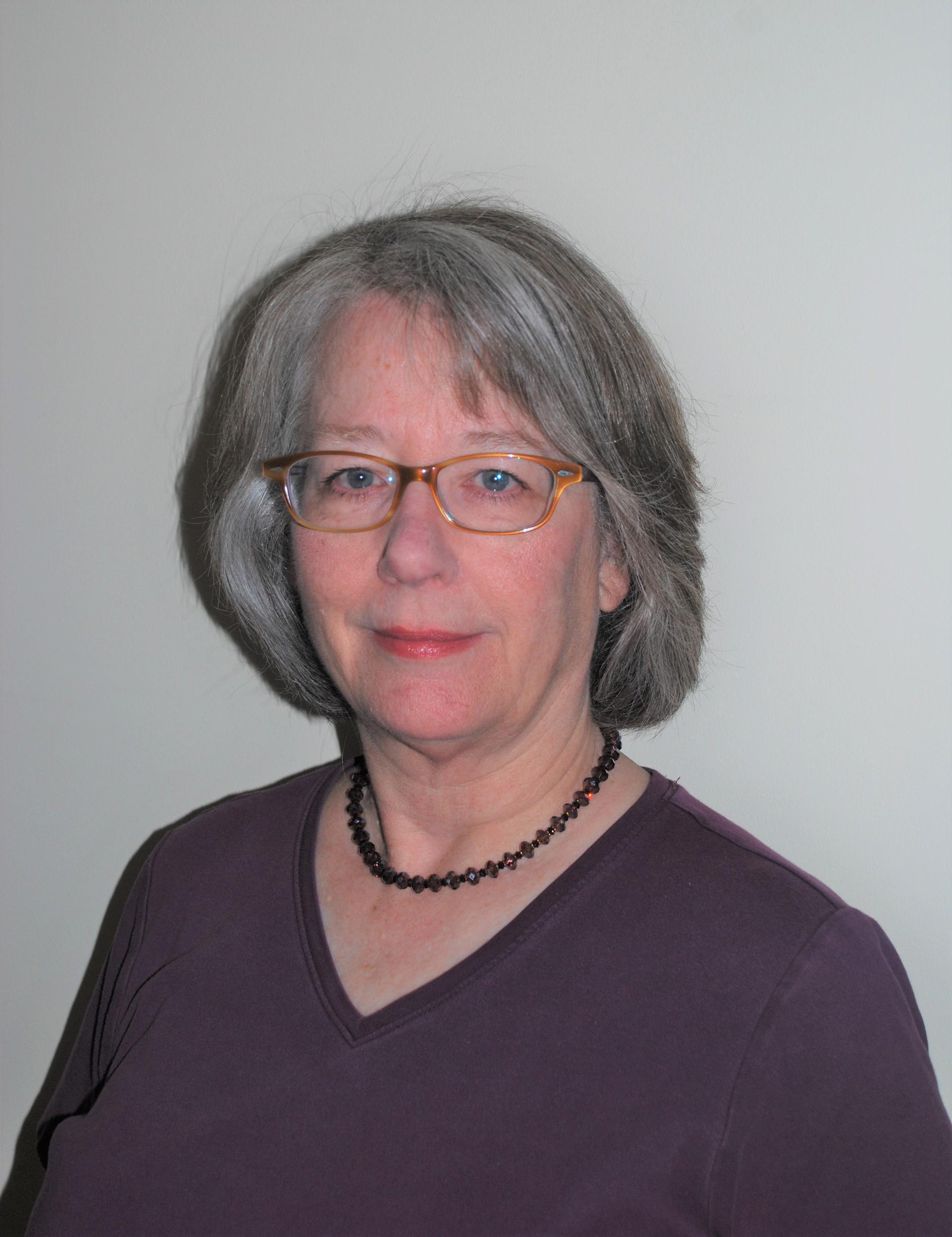 August 2020 Newsletter
"It all comes down to our relationship with our clients. We listened to what they needed and worked to provide it."
Mana McNeill, Executive Director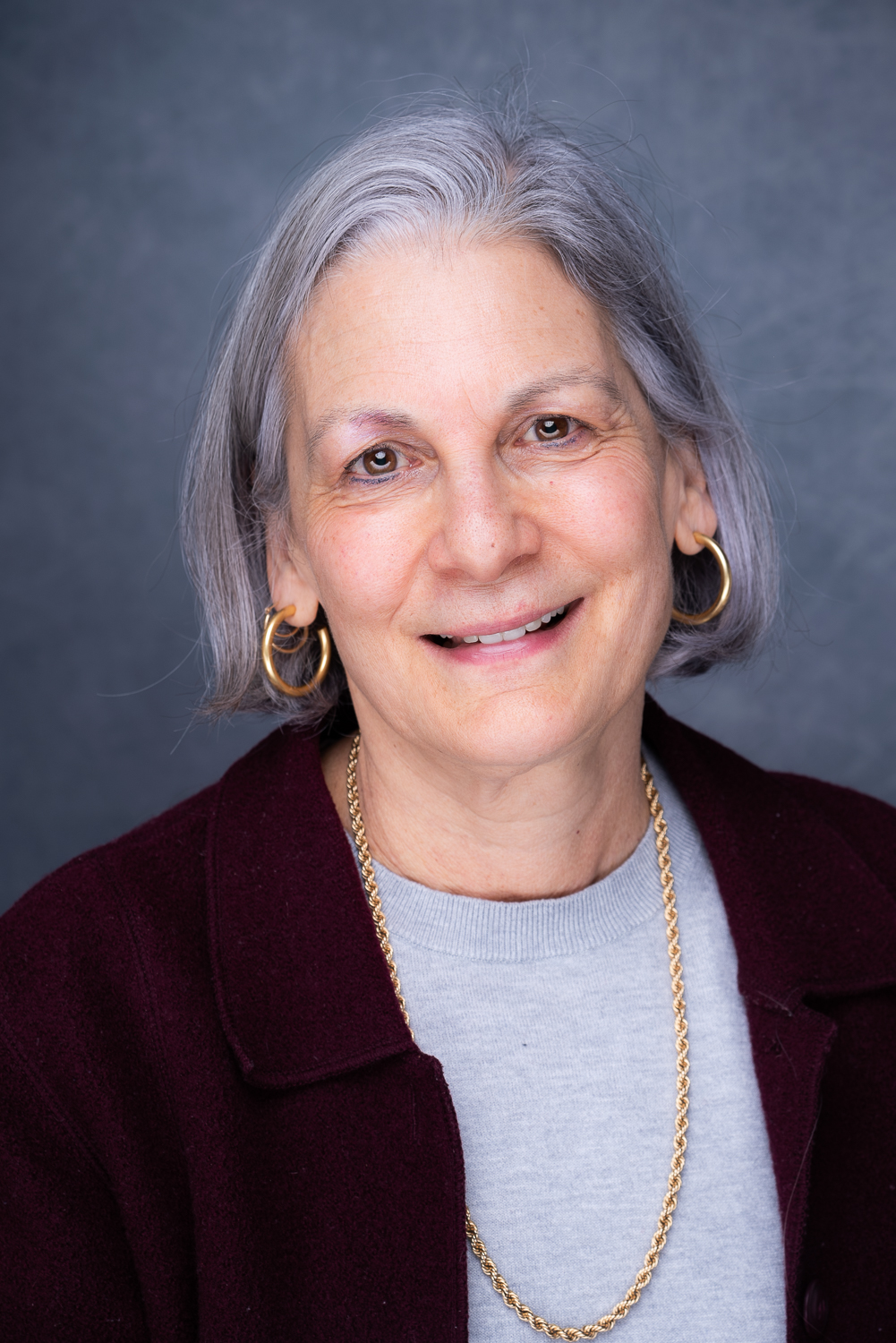 Mana's simple message highlights the extraordinary work of CareerCatchers in the first half of 2020 as everyone struggled with the effects of COVID-19. In less than 6 months, CareerCatchers saw the number of clients increase, the size of the staff double, and the challenge of helping clients find meaningful employment expand to include facilitating support from both private and government sources.
CareerCatchers applied for and received a $30K COVID-19 Relief Grant from the Greater Washington Community Foundation. The $30 K, which had to be spent within the months of April to June, led CC to both expand and shift the program.
Our clients needed help navigating confusing and often dysfunctional computer systems in order to apply for benefits. We helped some 150 receive their benefits. Many had no computers and had lost access to those in public spaces. We hand-delivered the 15 we could provide. We increased our outreach to existing clients and added 54 more. We advertised on-line training for clients and reached out to encourage them to enroll. We saw a 200% increase in clients who signed up for training classes.
A separate program with Montgomery County allowed us to facilitate requests for those not eligible for unemployment or stimulus checks. By the end of June, we had processed nearly 120 client referrals, as well as 20 of our existing clients, for payments through the Emergency Assistance Relief Program. Most of these new clients spoke no English.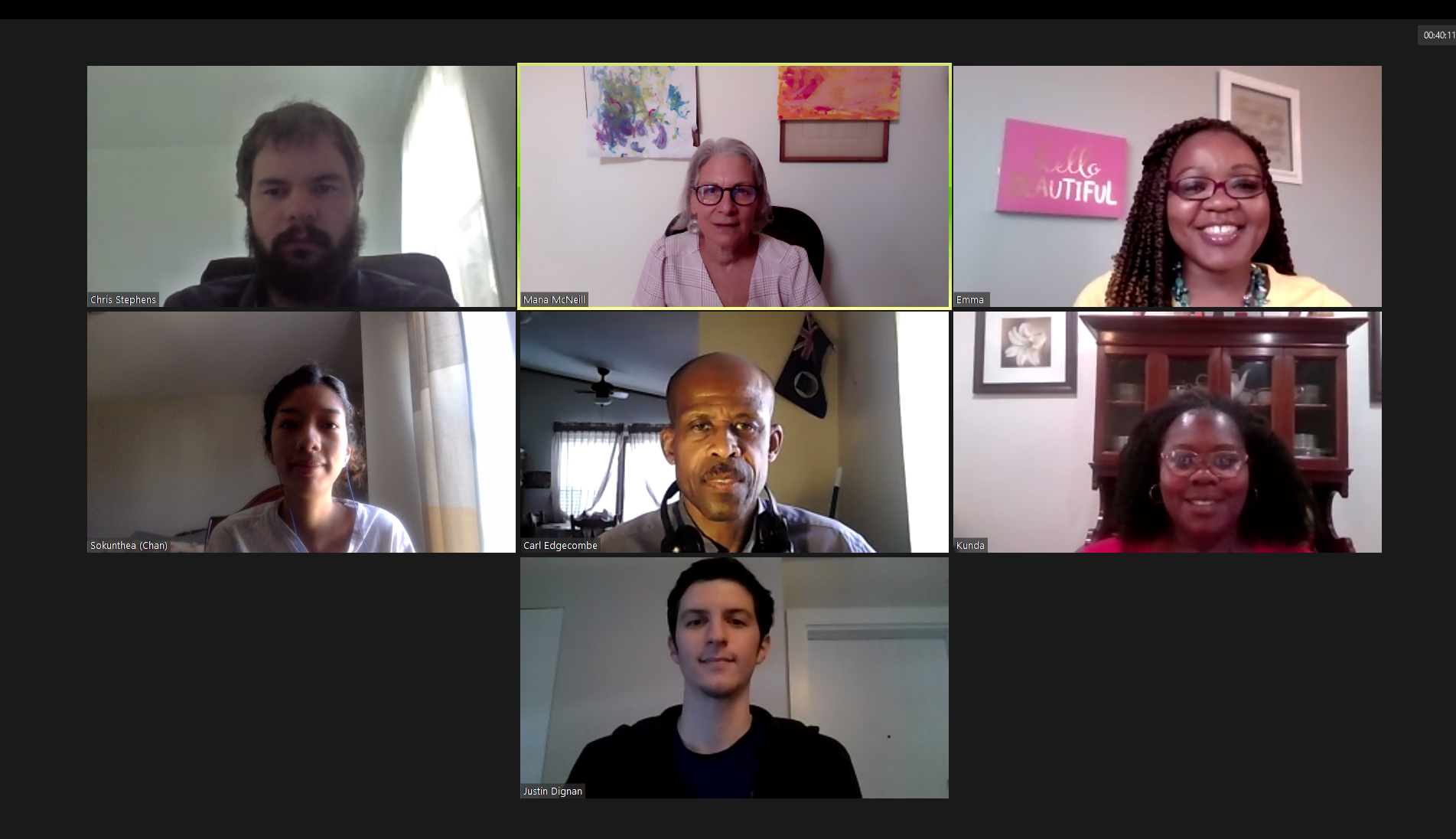 First row:
Left: Chris (Career Counselor)

Middle: Mana (Executive Director)

Right: Emma (Volunteer Coordinator)
Middle row:
Left: Chan (VISTA Fundraiser)

Middle: Carl (Career Counselor)

Right: Kunda (Program Director)
Bottom: Justin (VISTA Data Analyst)
Weekly Job Club workshops, held on Zoom, proved popular with clients. Within three months, we delivered over 10 Job Club workshops, attended by 10 to 15 clients per session. The topics included presentations on the Gig Economy and Entrepreneurship, the Art of Networking, and Your Job Search Toolkit, among others. We are also working on a new evening program for working clients that will meet twice a month.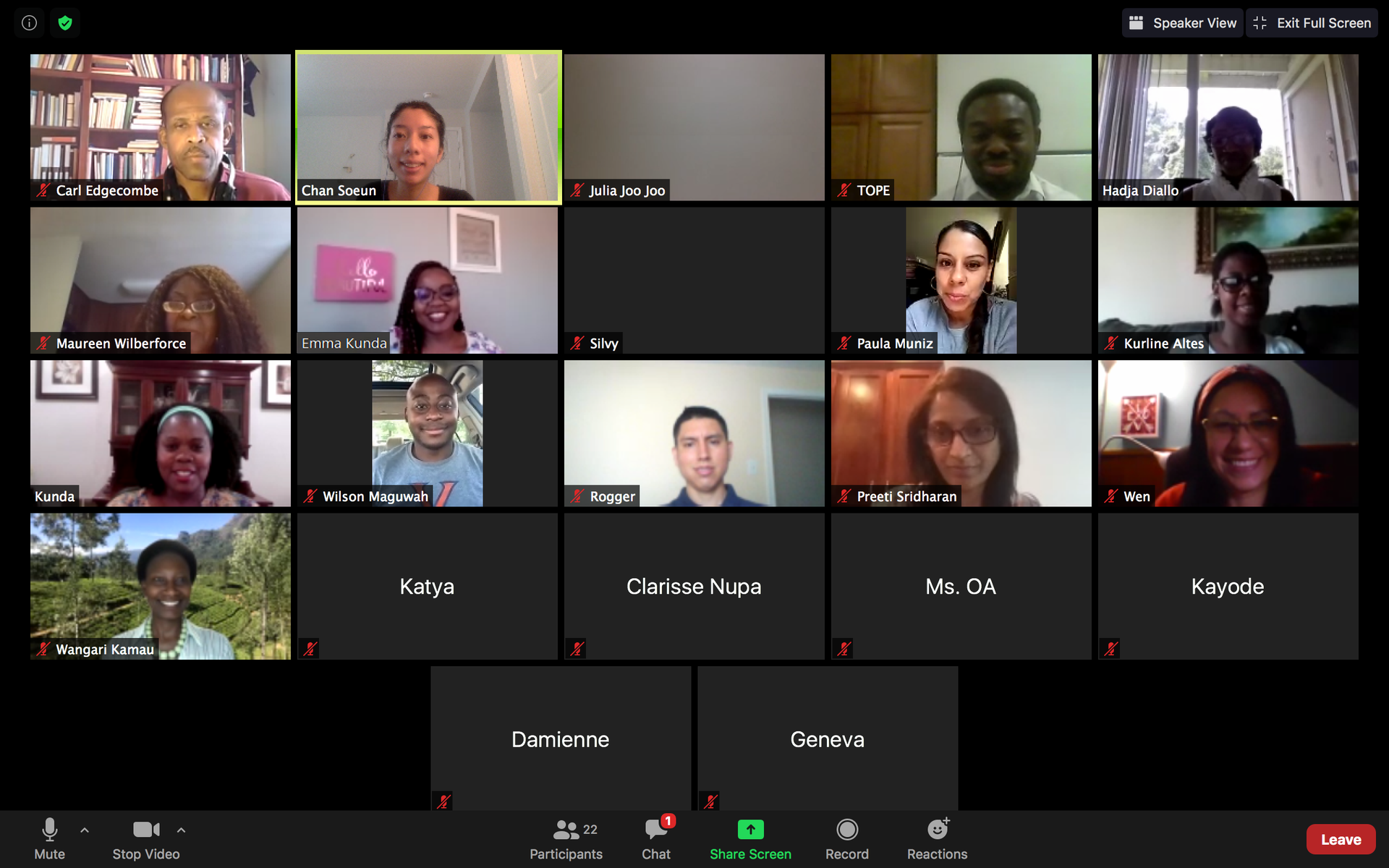 Learning Communities, Best Practices, and Communication Grow
We convened Zoom sessions with fellow non-profits describing best practices to help clients. We developed a best practices document and held workshops for clients and other Learning Community practitioners on specific issues such as helping clients file unemployment claims. We sent out weekly email blasts about opportunities for training, jobs, resources, and anything that would ease the economic pain of COVID-19.
Approximately 20 volunteers were matched with clients taking on-line training classes to answer questions and offer encouragement and practical advice. Volunteers share expertise on communication, interviewing, and developing a LinkedIn profile.
One client shared her experience working with a CC volunteer:
"It is really amazing. I used to get so frustrated, I would just give up. Now I think I will be able to get my GED, and I can't wait for our next meeting."
Success!
CareerCatchers could accelerate work with clients and adapt to meet the crisis of COVID-19 because of the strength of our program, the energy and talent of our staff, and the generosity of our partners and donors. We served 355 clients in a three-month period—90 more than in the same period of 2019. We were able to hire staff, develop programs, and share expertise. We know what success looks like. Your donation will help us retain the staff we brought on and expand our program. It will allow us to hire a bilingual contractor. It will ease the pain and confusion of job loss and unemployment. It will offer connection, practical advice, and hope. What is perhaps most important, your donation will build a stronger community.
You can support CareerCatchers through Amazon Smile where Amazon donates 0.5% of the price of eligible smile.amazon.com purchases to the charities selected by customers. Use this link to support us: https://smile.amazon.com/ch/61-1588740




CareerCatchers Chronicles
Quick updates for our donor community.
---
July 2022 Update
Welcome to the
CareerCatchers Chronicles
Quick updates for our donor community.
COMPUTERS
CareerCatchers, working with several organizations and Montgomery Connects, assisted over 30 clients to receive computers this year– resulting in their increased ability to participate in workshops/training and to apply for jobs!
Fruit of Networking


CareerCatchers has made new contacts with multiple companies. Networking has offered opportunities for clients to be referred, interviewed, and often get jobs. The total annual value of jobs that CareerCatchers helped clients start since January is $4.6 million.
Training Overview


Since January we held 9 classes with a total of 145 attendees. Topics range from computer courses including Excel, Google documents to interview workshops. The interview class addresses the questions that clients find most difficult: "Tell me about yourself," salary negotiation, and what they identify as the most difficult questions. Computer courses generally have 40 registrants, while other courses like LinkedIn and the interview class have 5-to 25 participants since participation is important.
"I love the workshops. It feels like a community and is a place to be encouraged and at times to think outside of the box." MT, Client
CareerCatchers Job Club & Empowerment Workshops are attended weekly by as many as 25 people per session. Job club workshops have companies participating. Recently Starbucks shared tips on how to deal with customer issues and teamwork building. Other companies have participated, sharing information about their companies, and later offering interviews and hiring attendees.
Clients find Empowerment workshops to be very supportive in addressing daily challenges. Topics have included Self Care, The Power of Saying No, Self-Advocacy, and Stress Management to name a few.
Next Chronicle: Updates on the fruits of multiple grant applications to increase CareerCatchers services. Most recently CareerCatchers has applied to grants with various organizations that will enable us to serve those facing a variety of challenges, from homelessness to domestic abuse.
Click here or email reply@careercatchers.org to receive weekly email blasts from CareerCatchers for updates of community resources, job opportunities, and upcoming events.
Follow us on Social Media to Receive Timely Updates