April 2021 Newsletter

"At times like this it is most evident that growing our capacity is not a luxury, but a necessity. We plan to redouble our efforts in the months ahead."
-Mana McNeill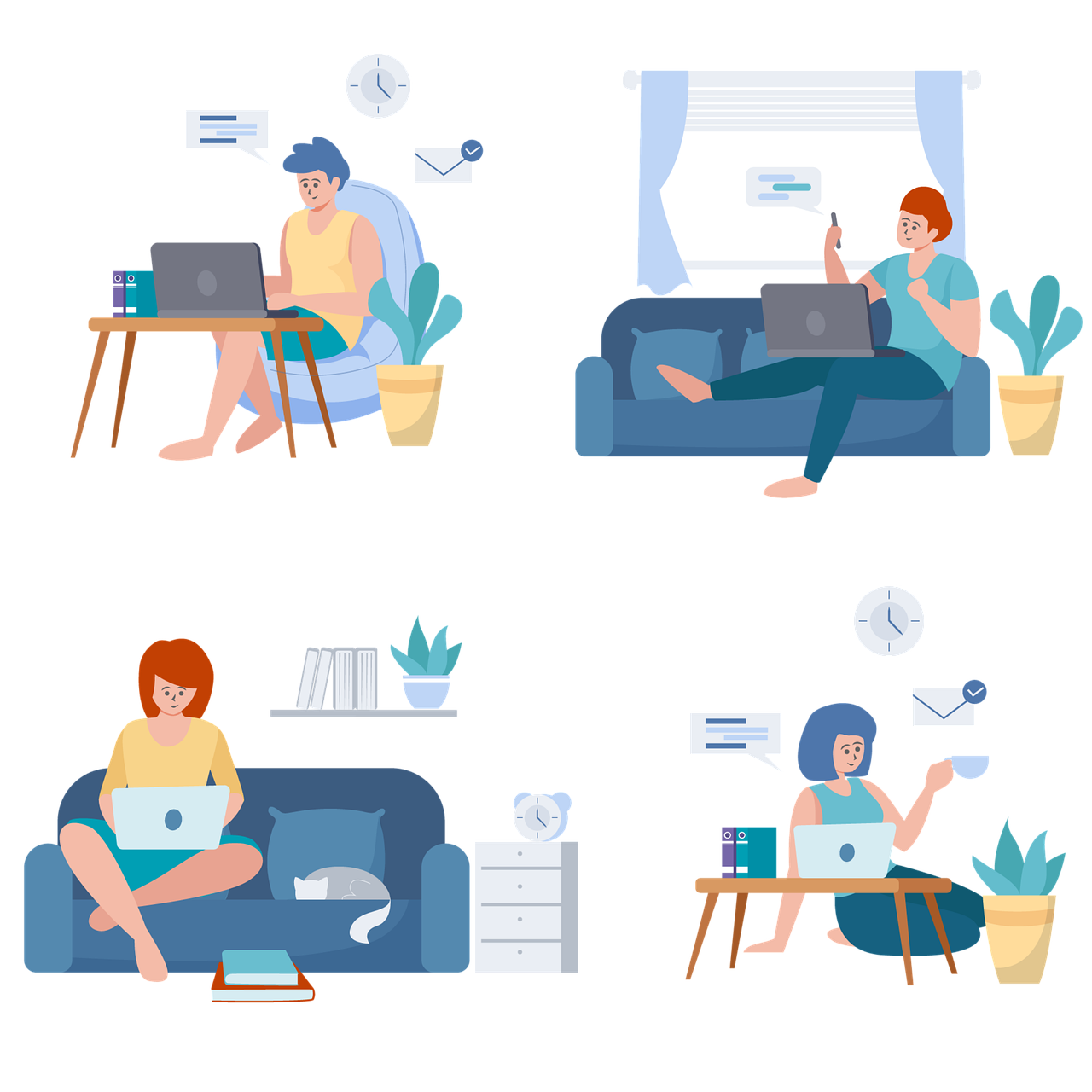 Dear Family and Friends,
CareerCatchers now serves 800 clients with a staff that has grown from 3 to 11, providing services that guide and train, lower barriers, facilitate emergency assistance, and help secure meaningful employment. This past year was unprecedented in the demand for and growth of our services. Here's who we saw and how we reached our clients.
Our program expands
We more than doubled the number of clients we saw last year, adding new clients and new services. Some 53% of clients were new referrals, and 166 of the 800 we helped were referrals from the 3-1-1 hotline seeking Emergency Assistance Relief Payment Assistance (EARP).
In addition to the 166 we helped through the Montgomery County Emergency Relief Services, our clients included new referrals from county partners, attendees of our training programs for Montgomery College students, and current clients.
We saw results
We helped the County distribute nearly $150,000 in EARP cash payments.

112 clients were helped with filing for Unemployment Insurance.

42% of clients seen intensively started a new job.

73% of clients seen intensively participated in training.
Our clients secured jobs valued at approximately $3,700,00 on an annual basis. These jobs included Contact Tracer, Human Services Specialist, Bus Driver-Ride-On, Delivery Driver, Canvass Director in Training, Store Manager, Community Health Worker, Contract Writer, Data Entry Consultant, and Case Manager.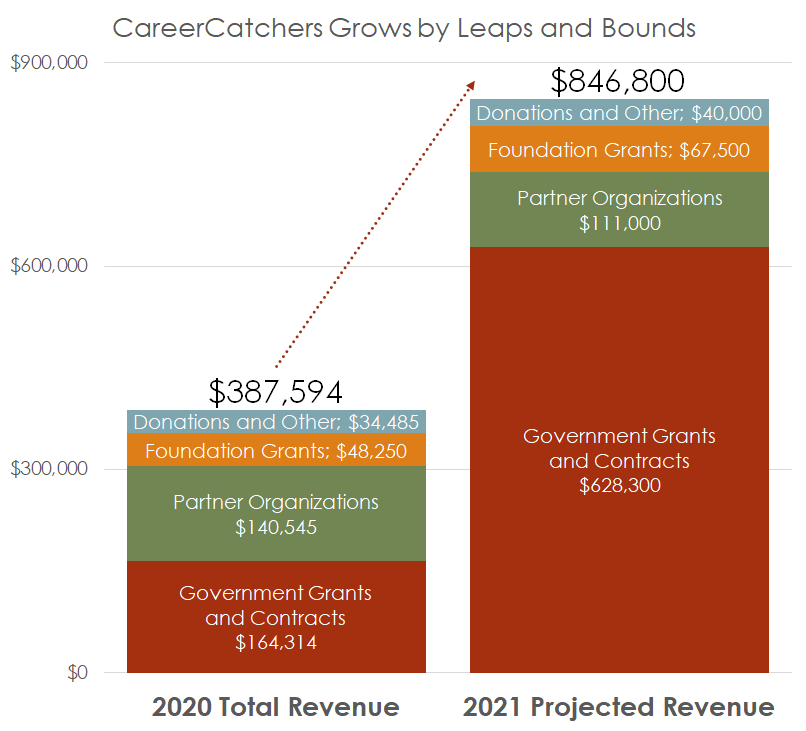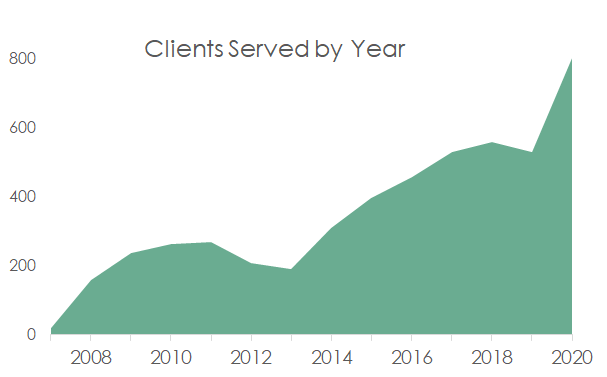 We continue to grow
Two new temporary staff members and two VISTA members in 2020—Emma, Carl, Justin and Chan—joined us to provide EARP and other COVID-related assistance for our clients. We increased outreach to all partners and clients, building client referrals and emphasizing opportunities for virtual workforce training at home. Some 212 clients started at least one workforce development training, and our direct training programs included Job Club, Empowerment Workshops, as well as classes and tutoring offered by volunteers. Since COVID, 26 clients who have attended Job Club have found employment. Our weekly e-blasts to clients provide information about job and training opportunities as well as community resources. Our weekly Virtual Empowerment Workshop Program provides ongoing support where clients can discuss strategies for coping in these stressful times. Domestic Violence victims, in particular, benefit from this workshop to build confidence and self-esteem.
We then started 2021 off with another growth spurt. To meet the increased demand for our services from Montgomery County's Rapid Rehousing Initiative, we added another four staff members in February and March—Rogger, William, Christopher, and Maria. This new team is expected to serve an additional 300 new clients in 2021.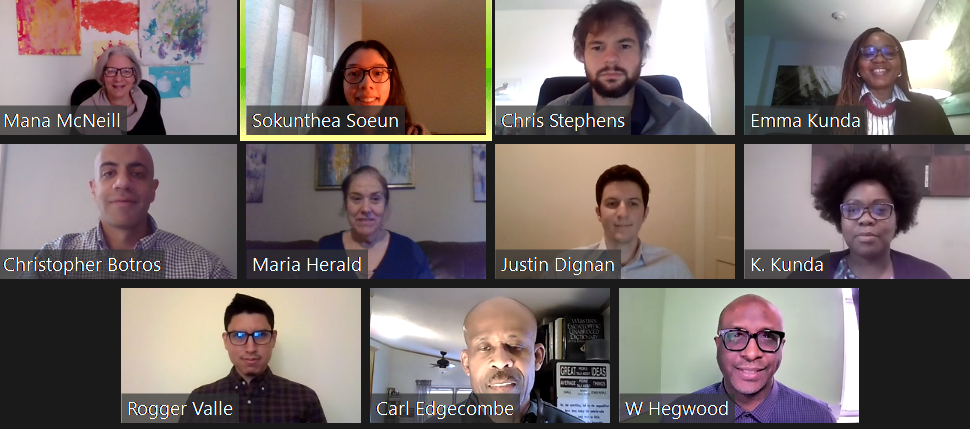 The more the merrier! Our expanded staff is happy to provide more services.

At Job Club, clients learn how to elevate their social networks. Join us for a different job-related topics every week.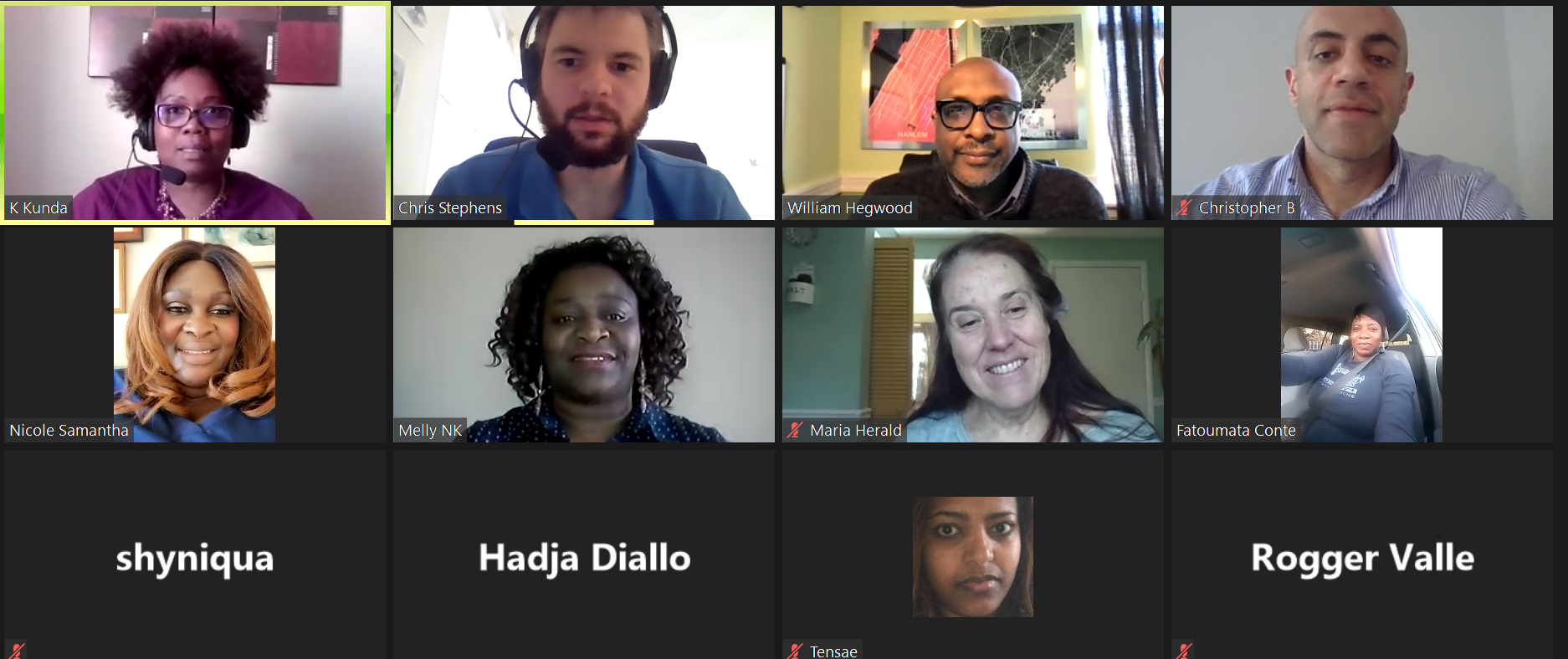 We all need to be empowered. Our clients love attending our Empowerment Workshops.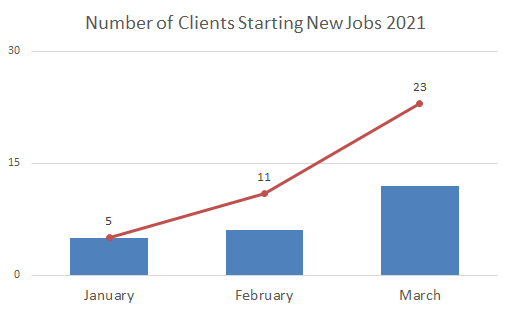 We continue to see results
The trend of clients starting new jobs and completing workforce development training continues on an upward trajectory in 2021.The first three months of this year showed great gains for our clients. 22 clients began new jobs valued at over $800,000 annually. Some of the interesting jobs we helped clients find are Montgomery Public School Classroom Monitor, Accounting Executive, Compliance Assistant, Project Manager Assistant, Financial Consultant, and Fingerprint Operator.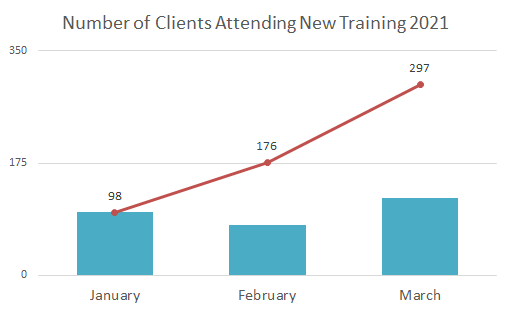 The help of our donors and partners has made it possible to reach more clients, expand our services, hire more staff, and offer both practical assistance and personal support. In a year where virtual is personal and need surges past capacity, we thank you for your generosity and humanity. We continue to depend on both.
Volunteer Spotlight
Kristen Conte started volunteering with CareerCatchers in 2017. Because she benefitted from good mentors in her career in Organizational Finance, she knew the importance of a good teacher and a good listener. Kristen started working right after high school and didn't decide to go to college until her late 20's. Since she was also working, it took 12 years to finish her Bachelor of Science program.
Kristen likes financial forecasting and interpreting financial information. She likes the precision required in finance and accounting, and has built financial models to help businesses make sound decisions about starting a new product line, hiring staff, or opening a new location. She also wanted to be a teacher, and in elementary school, dreamed of that opportunity. At CareerCatchers, she can combine both her financial expertise and teaching. She teaches Bookkeeping, QuickBooks, Microsoft Word, and Excel.
Clients in Bookkeeping and QuickBooks ask questions from both a business and technical perspective. One client had a consulting firm and wanted to learn how to transition her finances from paper to a software program. Another client owned a market and wanted to save time and money by recording all transactions in QuickBooks. During the course, Kristen describes how businesses bring money in and spend it, discussing how budgets are developed and monitored.
In the Word and Excel classes, Kristen explains problems that can arise when formatting changes are made, or when information is added to or removed from a Word document or Excel spreadsheet. She admires clients taking control of their situation and actively signing up for online training classes. Her hard working students are equally admiring.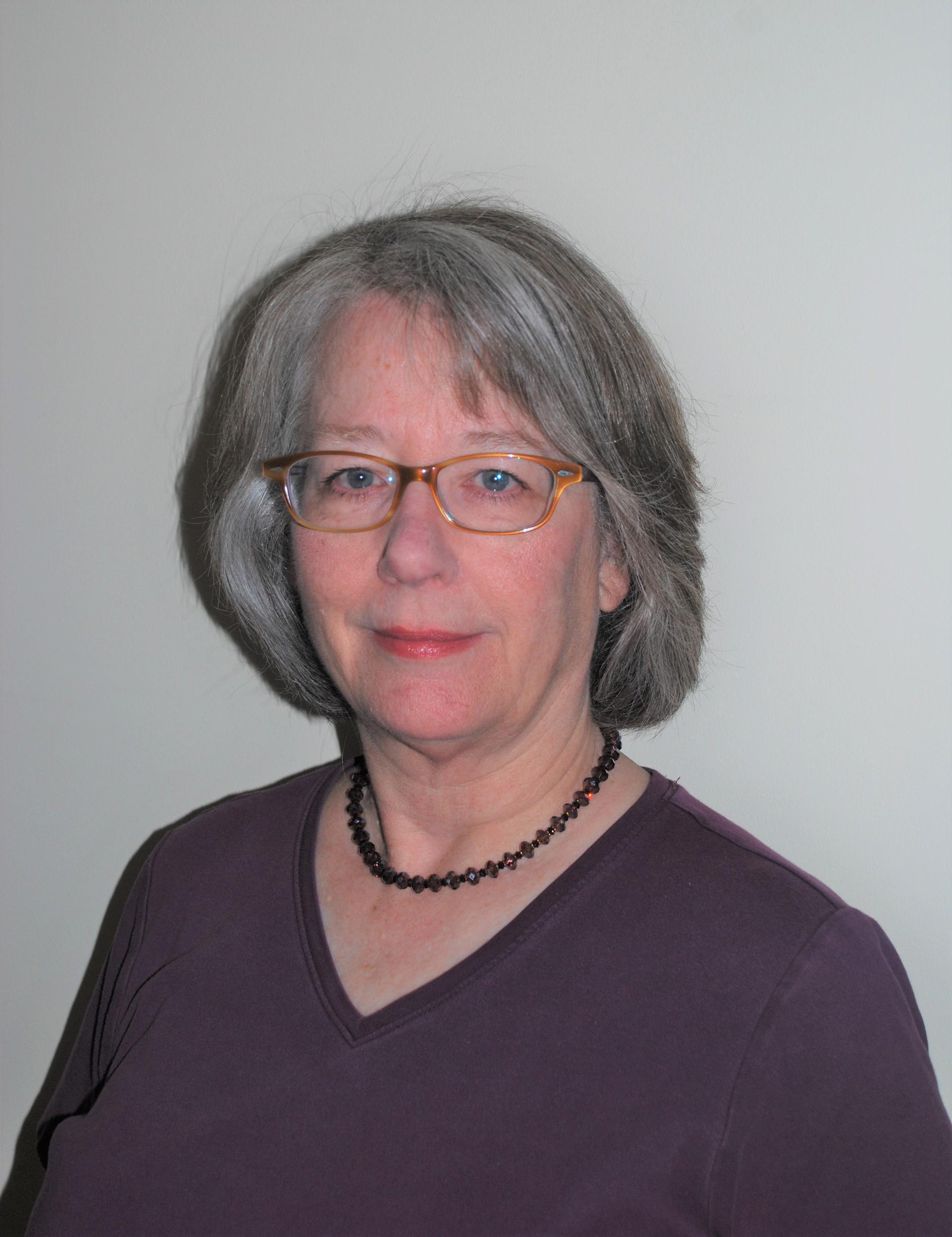 August 2020 Newsletter
"It all comes down to our relationship with our clients. We listened to what they needed and worked to provide it."
Mana McNeill, Executive Director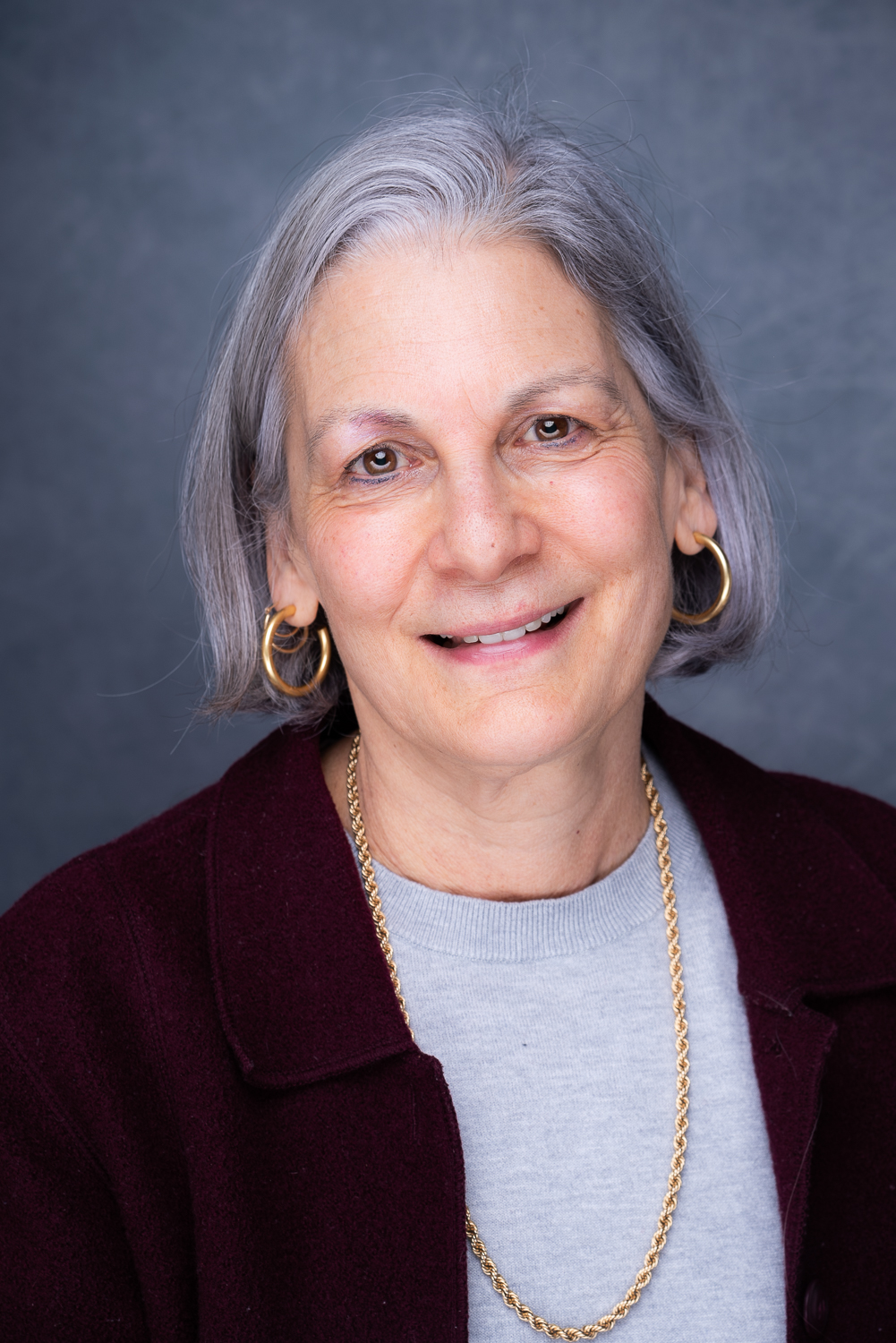 Mana's simple message highlights the extraordinary work of CareerCatchers in the first half of 2020 as everyone struggled with the effects of COVID-19. In less than 6 months, CareerCatchers saw the number of clients increase, the size of the staff double, and the challenge of helping clients find meaningful employment expand to include facilitating support from both private and government sources.
CareerCatchers applied for and received a $30K COVID-19 Relief Grant from the Greater Washington Community Foundation. The $30 K, which had to be spent within the months of April to June, led CC to both expand and shift the program.
Our clients needed help navigating confusing and often dysfunctional computer systems in order to apply for benefits. We helped some 150 receive their benefits. Many had no computers and had lost access to those in public spaces. We hand-delivered the 15 we could provide. We increased our outreach to existing clients and added 54 more. We advertised on-line training for clients and reached out to encourage them to enroll. We saw a 200% increase in clients who signed up for training classes.
A separate program with Montgomery County allowed us to facilitate requests for those not eligible for unemployment or stimulus checks. By the end of June, we had processed nearly 120 client referrals, as well as 20 of our existing clients, for payments through the Emergency Assistance Relief Program. Most of these new clients spoke no English.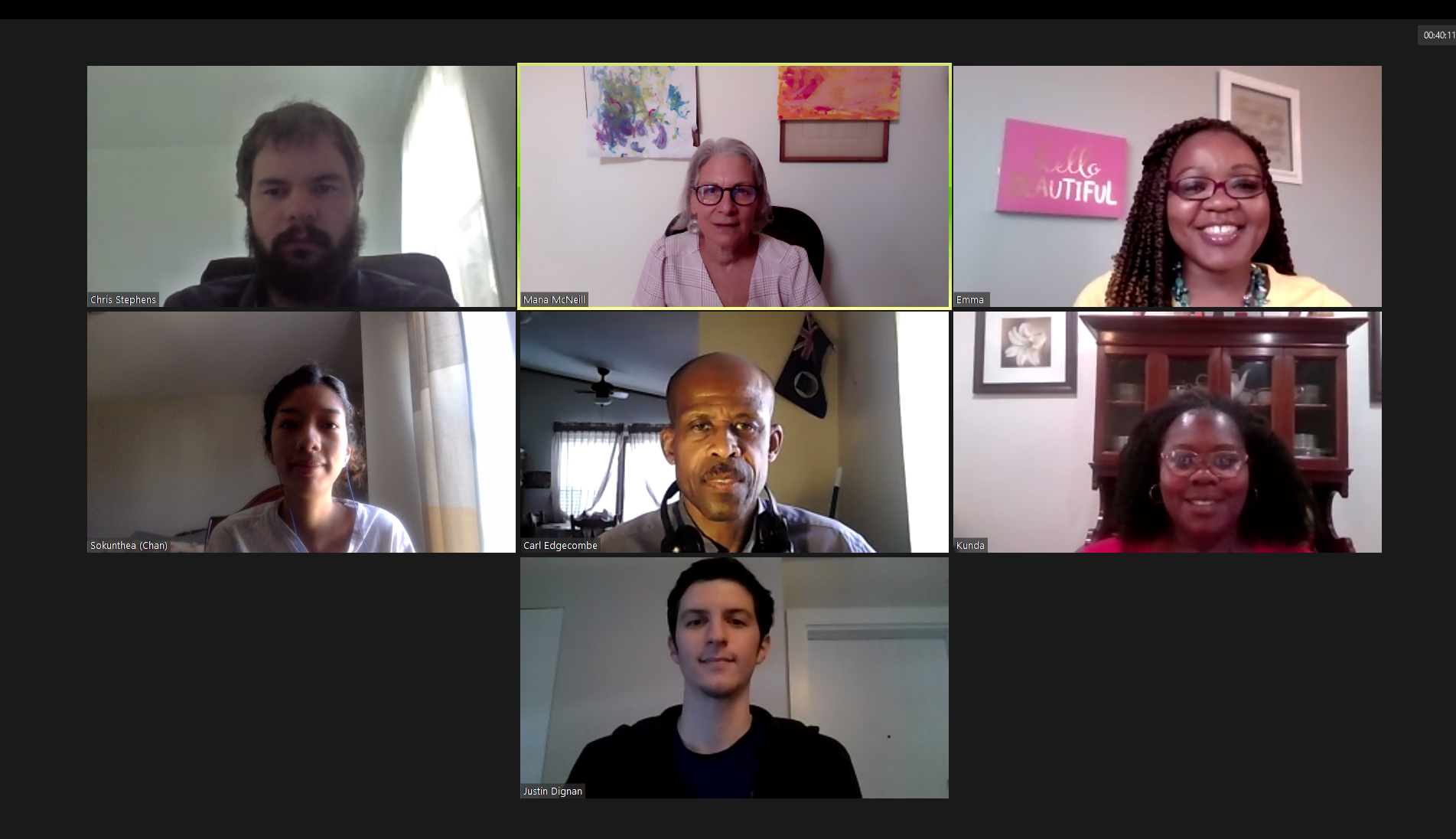 First row:
Left: Chris (Career Counselor)

Middle: Mana (Executive Director)

Right: Emma (Volunteer Coordinator)
Middle row:
Left: Chan (VISTA Fundraiser)

Middle: Carl (Career Counselor)

Right: Kunda (Program Director)
Bottom: Justin (VISTA Data Analyst)
Weekly Job Club workshops, held on Zoom, proved popular with clients. Within three months, we delivered over 10 Job Club workshops, attended by 10 to 15 clients per session. The topics included presentations on the Gig Economy and Entrepreneurship, the Art of Networking, and Your Job Search Toolkit, among others. We are also working on a new evening program for working clients that will meet twice a month.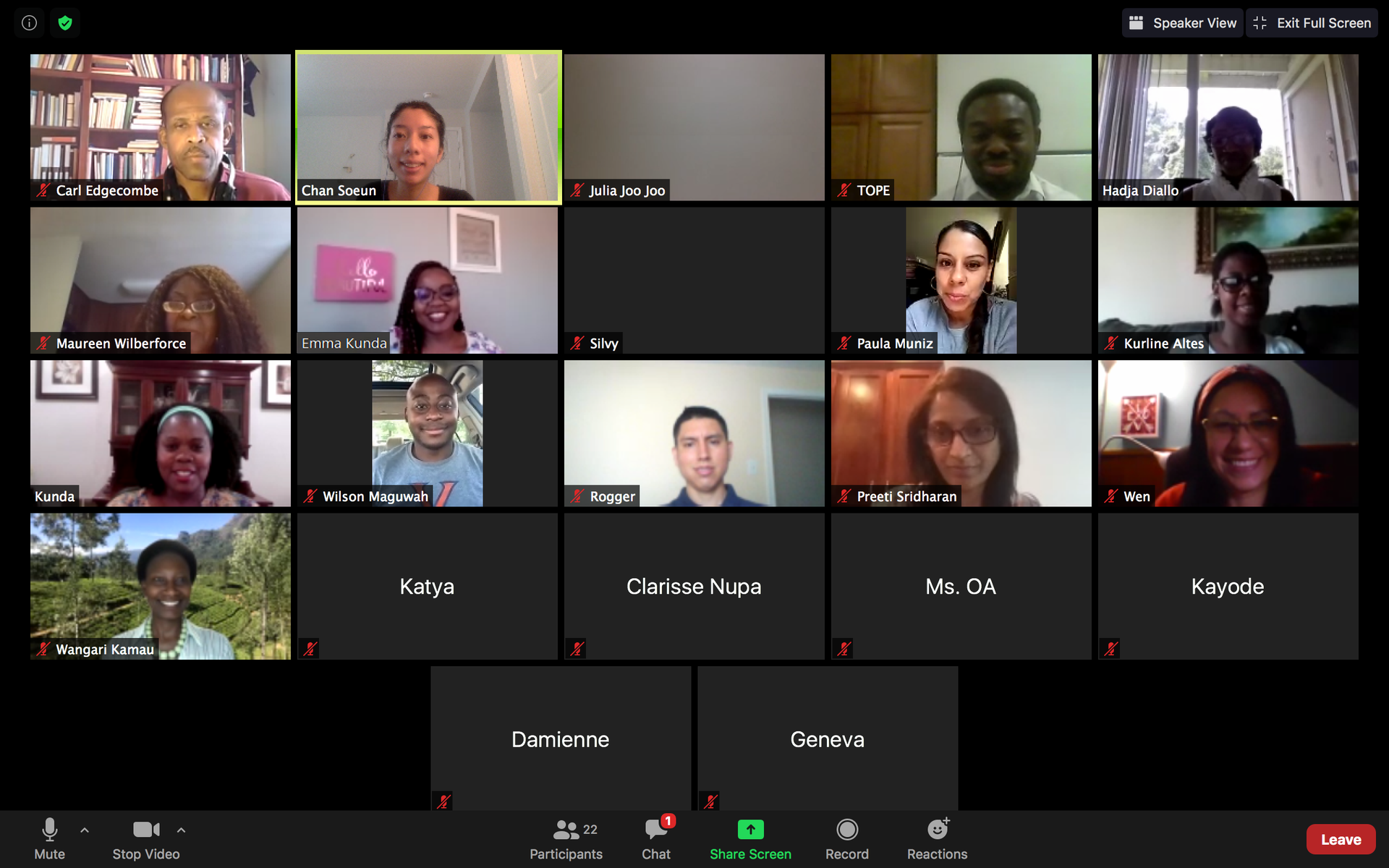 Learning Communities, Best Practices, and Communication Grow
We convened Zoom sessions with fellow non-profits describing best practices to help clients. We developed a best practices document and held workshops for clients and other Learning Community practitioners on specific issues such as helping clients file unemployment claims. We sent out weekly email blasts about opportunities for training, jobs, resources, and anything that would ease the economic pain of COVID-19.
Approximately 20 volunteers were matched with clients taking on-line training classes to answer questions and offer encouragement and practical advice. Volunteers share expertise on communication, interviewing, and developing a LinkedIn profile.
One client shared her experience working with a CC volunteer:
"It is really amazing. I used to get so frustrated, I would just give up. Now I think I will be able to get my GED, and I can't wait for our next meeting."
Success!
CareerCatchers could accelerate work with clients and adapt to meet the crisis of COVID-19 because of the strength of our program, the energy and talent of our staff, and the generosity of our partners and donors. We served 355 clients in a three-month period—90 more than in the same period of 2019. We were able to hire staff, develop programs, and share expertise. We know what success looks like. Your donation will help us retain the staff we brought on and expand our program. It will allow us to hire a bilingual contractor. It will ease the pain and confusion of job loss and unemployment. It will offer connection, practical advice, and hope. What is perhaps most important, your donation will build a stronger community.
You can support CareerCatchers through Amazon Smile where Amazon donates 0.5% of the price of eligible smile.amazon.com purchases to the charities selected by customers. Use this link to support us: https://smile.amazon.com/ch/61-1588740